WEBINAR: Attract Recruiters and Jump-Start Networking with an "All-Star" LinkedIn Profile
February 20 @ 4:00 pm

-

5:00 pm

EST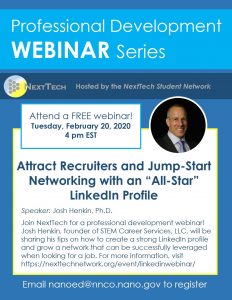 Join NextTech for its first monthly webinar of 2020, where Dr. Josh Henkin, CEO of STEM Career Services, LLC, will be sharing tips for using LinkedIn effectively. Tune in to make the most of your professional online presence! Email nanoed.nnco.nano.gov to register.
Attract Recruiters and Jump-Start Networking with an "All-Star" LinkedIn Profile
Networking is the primary way people build relationships to learn about unadvertised career opportunities, get their foot in the door at a company, and grow their professional contacts. LinkedIn is a fantastic tool to accomplish all of these goals, especially when job seekers aim to network with people and organizations from afar. With over 660 million users worldwide, LinkedIn is by far the most popular social media platform used by professionals in the workforce, with particular attention by recruiters looking to fill open positions. Learning how to create and present a strong LinkedIn profile is essential for building relationships, developing a professional network, establishing your brand and thought leadership, and finding new career opportunities.
Maintaining a strong LinkedIn profile is essential for finding a job, both passively and actively. Unfortunately, most people don't focus on their LinkedIn profile until they start their job search. Instead, every student, postdoc and early career professional should be actively growing their LinkedIn network, their LinkedIn brand and LinkedIn presence, so that when it comes time to start looking for a job, they have a strong network and LinkedIn exposure to leverage.
As LinkedIn frequently enhances its platform to offer new features, this workshop will also introduce any new tools and features that will benefit LinkedIn users.